Warning: Don't let new septic tank rules delay your sale
Published on, June 28, 2019
Homebuyers and sellers are being alerted to new rules on septic tanks which mean many systems must be upgraded or replaced in the next six months.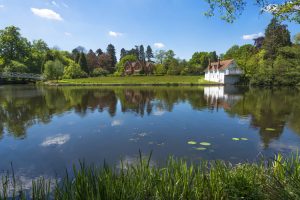 Concerns wastewater could be polluting local watercourses has led the Environment Agency to instruct homeowners with tanks which discharge directly into ditches, streams, canals, rivers or any other type of watercourse to minimise the impact of their sewage waste.
For anyone with a septic tank who is planning to sell their property before 1 January 2020, when the rules come into force, it's vital to act now.
Indeed, they will be required to provide a new septic tank, an upgrade or have an agreement in place with the new buyer before moving in order to comply with the code of practice and avoid breaking the law.
But there are other implications. According to chartered surveyors, Vickers & Barrass, failure to act now could result in a sale being delayed or the possibility of losing the purchaser.
It is thought many rural properties, including houses, rely on septic tanks for their sewage discharge. Their purpose is to provide a way to dispose of foul drainage and waste water where there is no mains drainage.
The new regulations are expected to affect thousands of septic tank installations, but it may be possible for some people to retain their existing tank and discharge the waste into a drainage field instead.
Potential problems for housing transactions
David Coulson, senior surveyor with County Durham-based Vickers & Barrass said: "For some buyers, purchasing a property might involve an obstacle they hadn't considered if the septic tank is not compliant with the new rules. The same applies to sellers.
"The further down the line the property transaction process has gone before the issue is addressed, the more expensive, and disruptive, fixing it is likely to be."
He warned there could be situations where people were ready to exchange contracts, only to discover that the whole septic tank issue would mean farm property or land could not be sold.
People can opt to replace their septic tank with a small low maintenance sewage treatment plant if installing a drainage field isn't feasible. This installation produces non-polluting effluent, so the system can still be discharged into a watercourse, even under the new rules.
"The key to is to act now," said Coulson. "It's better to be prepared, and to have peace-of-mind that your system isn't going to disrupt any current or future plans you have."
This post was originally posted on What Mortgage.